Car Window Tinting in Miami
A window tinting service is one of the most cost-effective and easiest ways to instantly change the look and feel of your new Nissan. By blocking out a variable percentage of sunlight, window tint helps keep interior temperatures cooler, as well as protecting passengers from harmful UV rays. Another benefit of window tint is darker exterior windows, which can drastically increase passenger privacy and security.
At AutoNation Nissan Miami, we exclusively use window tint products from LLumar, one of the most respected brands in the business. With a wide range of available tint percentages, we can find the perfect window film to meet your personal needs. So whether you're looking for UV protection, more privacy, or you simply like the look of darker windows, we have you covered.
To schedule a window tint appointment, contact us at today at (305) 707-0145.
High Performance Window Tint
99% UV & Heat Rejection: By blocking over 99% of the sun's harmful rays, LLumar window tint not only keeps passengers protected but drastically reduces heat build-up, protecting the interior for years to come.
Style & Privacy: Available dark window tint now only changes the outside look of your vehicle, but offers incredible privacy benefits.
No Electronic Signal Interference: Won't inhibit GPS, Bluetooth, toll road transponders, etc.
Transparent Film: Thanks to modern window film technology, LLumar has produced an incredible "clear look" window film. This film has all the benefits of traditional window tint, without the darkened windows.
Limited Lifetime Warranty: All LLumar window tint products are guaranteed to not bubble, fade, or turn purple like other inferior quality window tints.
Standard Tint
LLumar Tint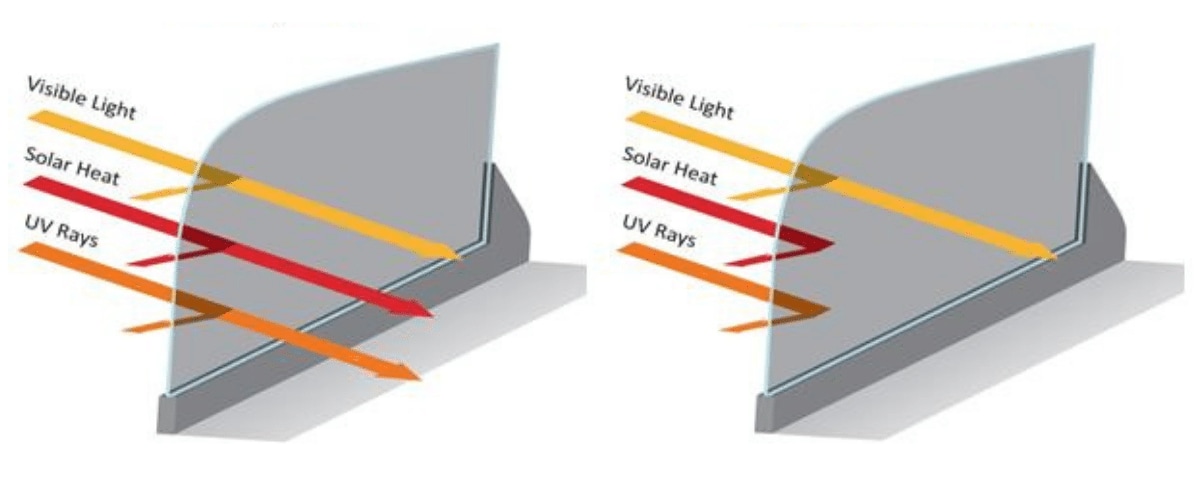 What Do Window Tint Percentages Mean?
You may have heard window tint referred to in terms of a percentage. This percentage is a measure of the visible light transmission, or VLT, through the film. Therefore for any given percentage, that is the amount of visible light that will pass through to the passengers. Now, this is not to be confused with UV light, which is almost entirely blocked out to minimize exposure. It is also important to note that a lower VLT percentage will also result in darker windows from the exterior. For the maximum amount of privacy, consider the lowest allowed VLT percentage.
One of the most important aspects of choosing a VLT percentage are your local laws and ordinances. Most states have regulations on minimum VLT percentages, which can also vary depending on the location of the window tint. The font and side windows are usually more regulated than rear windows, and will likely call for a higher VLT percentage.
Get Your Car or SUV Tinted at AutoNation Nissan Miami Today
AutoNation Nissan Miami is excited to now offer window tinting services to Miami customers. Whether you want to tint the windows on your new Nissan or have your current vehicle tinted, we make window tinting a quick and convenient process. If you would like window tinting done on your vehicle, feel free to give us a call and one of our teammates will be happy to schedule you an appointment and answer any additional questions you may have.
Schedule a Window Tinting Appointment: