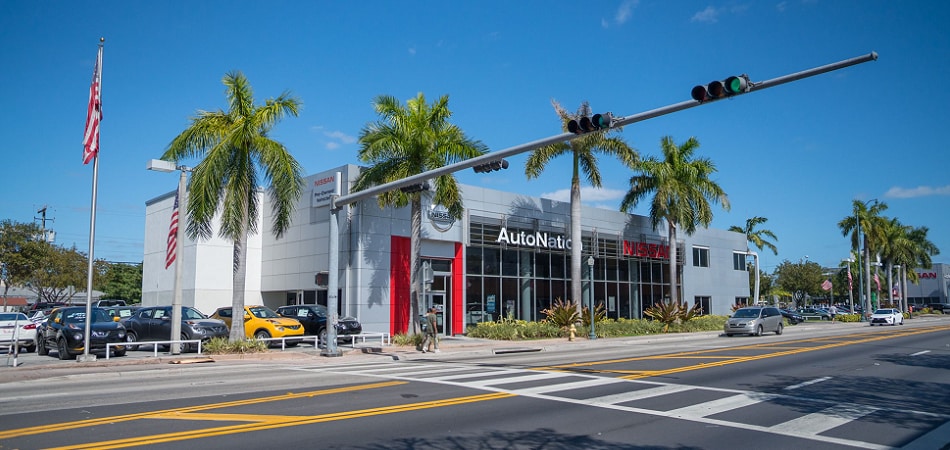 Hialeah 

Nissan 

Dealer

At AutoNation Nissan Miami, we offer Hialeah residents a pleasing environment to shop for cars. Did you  know you can also sell your current car here, have your car serviced, and test-drive your top Nissan models? Our location on US-41 makes us more accessible and convenient to schedule a visit or drop in spontaneously. We enjoy receiving visitors from Hialeah and encourage residents to take advantage of its recent art revitalization and one such place to get a taste of this is at the Garden of the Arts. This newer park has paved walking paths that feature artistic installations and murals, historic monuments, and an amphitheater. Tip: Go to see artist-in-residence at FIU and White House-commissioned artist Xavier Cortada's Wallflower, an 8x10-foot stone and glass mosaic piece. 
Nissan Cars, Trucks & SUVs For Sale
You may be just starting to decide if you want a new or used car, which is why our website is a fine place to begin. Here you can search all inventory -- new or used - we have both. When you have a better idea, take some time to drop by AutoNation Nissan Miami and inspect and test-drive the cars you like most. What can make this day even better is Hialeah dining. How about food so delicious, locals with starpower like Flo Rida and Billie Blue are regulars? The family-run Franky's Deli Warehouse has consistently provided affordable fresh Italian and Cuban-inspired sandwiches for twenty years now, also offering homemade soup and chili, all at decent prices. Never been? It's a hidden treat at 2596 West 84th Street.
Hialeah Nissan Service & Parts Center
What do you get when you bring your Nissan to AutoNation Nissan Miami? You'll get the expertise of OEM-certified mechanics and the assurance of genuine OEM parts. We also offer convenient hours for you to schedule your service appointment, which can be done right here online or by calling us. Our team will see to it that all of your Nissan car care needs are met in a timely fashion. In the meantime, you can have something good to eat while you wait.
Stephen's Restaurant
is one redeeming staple left over from the Jewish garment district that once thrived in Hialeah. Jack Frisch is the newest owner and he managed to keep it authentic to its roots. You can't say you're from Hialeah if you haven't tried Stephen's grilled Rachel or Reuben sandwich at least once 
Visit AutoNation Nissan Miami
3345 SW 8th Street
, 
Miami
, 
FL 

33135
We are pleased that you have decided to use our website as a resource to shop for your next Nissan. When you come to see us in person, we can fill in any gaps you may have in your car purchase journey. Finally, we couldn't part ways without mentioning what may be Hialeah's greatest place for stimulation through the arts, a place where you can also see local artists at work. Head over to East 10th Avenue on the 1500 block, and immerse yourself in the staggering art scene of the
Leah Arts District
.